Cruelty- Free
Gluten-Free
Made with Organic Herbs
Non-GMO
Soy-Free
Tested for Heavy Metals
Vegan
Sale price
$16.99 USD
Regular price
Unit price
per
Sale
Sold out
Shatavari helps with supporting a healthy hormonal balance*.
Supports a healthy menstrual cycle*.
Supports a healthy menopausal transition*.
Shatavari (Asparagus Racemosus) in Ayurveda is known as the 'Female Tonic' and is famous for supporting healthy reproductive health in Women.* 
Shatavari helps with supporting a healthy hormonal balance*.
Supports a healthy menstrual cycle*.
Supports a healthy menopausal transition*.
Shatavari (Asparagus Racemosus) in Ayurveda is known as the 'Female Tonic' and is famous for supporting healthy reproductive health in Women.* 
View full details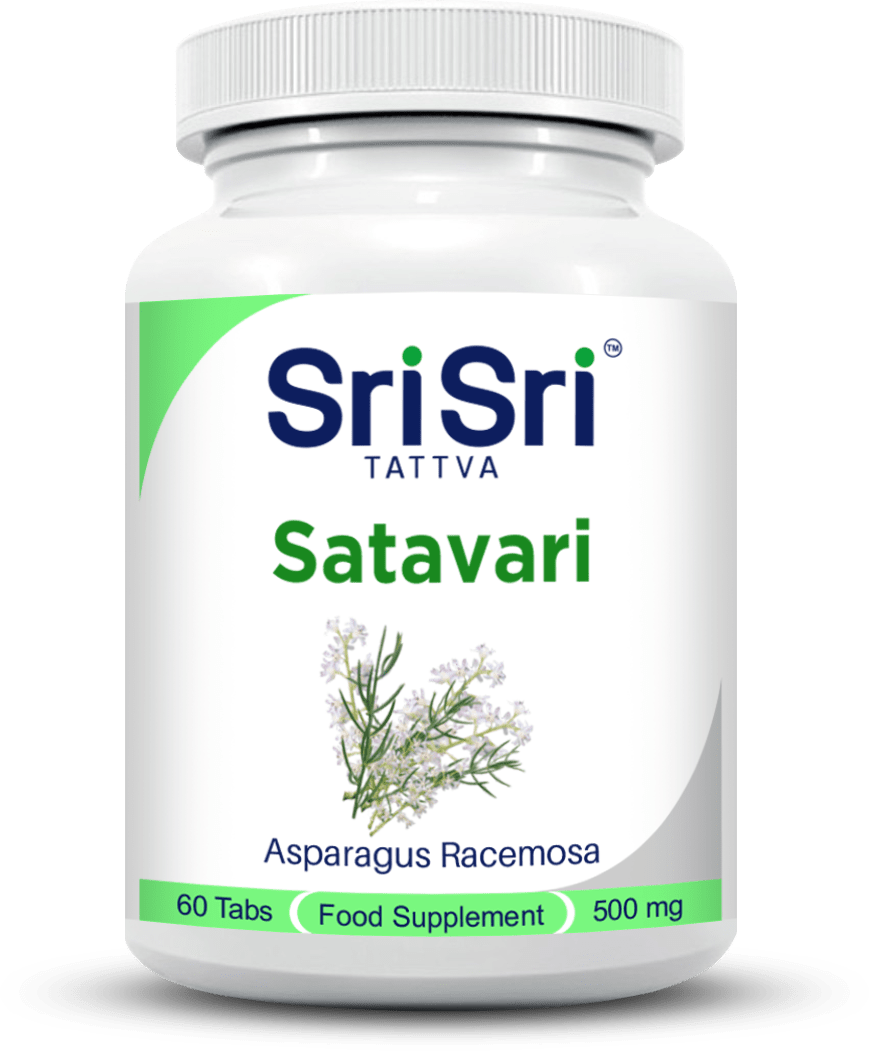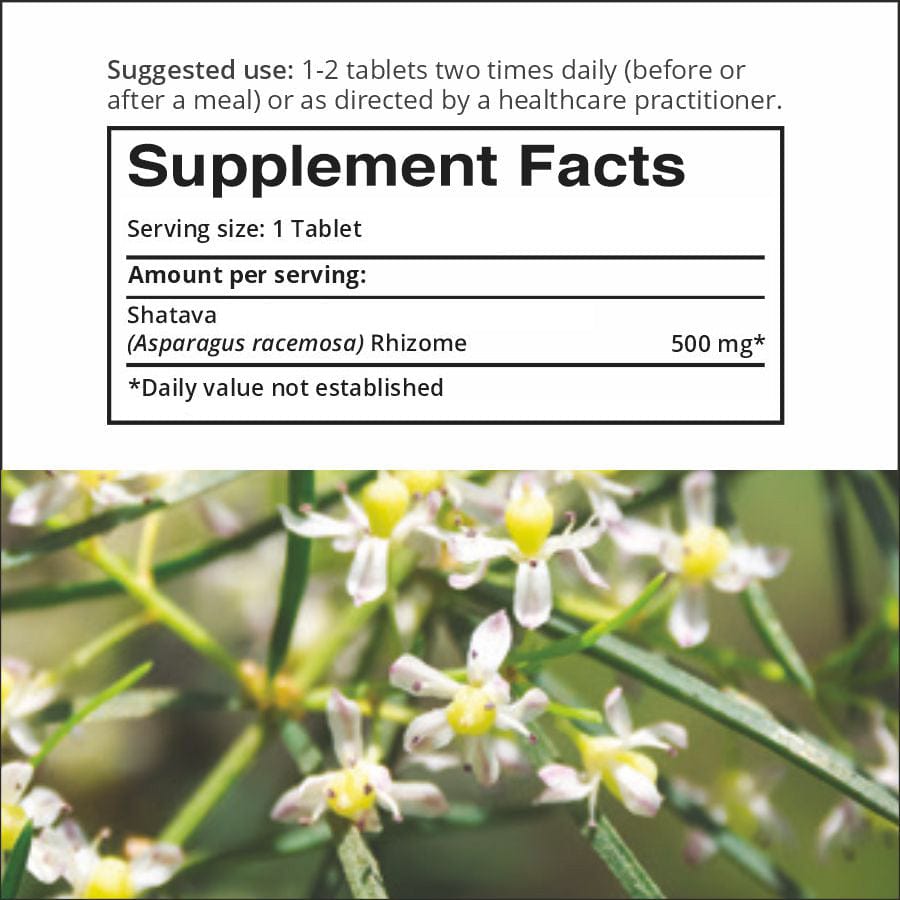 Our Promise
Over 35 years of R&D. Our ayurvedic products are free of harmful chemicals and made in state-of-the-art facilities promoting environmental sustainability.
Love them! I take them twice a day, and it has helped my symptoms tremendously. Zero side effects!
Reena Chaudhary
Hormonal balance in women*
Shatavari is a traditional Ayurvedic herb that is known to support healthy hormone balance and female reproductive health.* It is nourishing and soothing for women's menstrual journeys. It supports a healthy libido and fertility.*
Healthy menstrual cycle*
Use of Shatavari supports a healthy menstrual process.*
Healthy Menopausal transition*
Shatavari helps support a healthy hormonal balance.*
It supports both the healthy male and female reproductive health.*
Suggested Usage
1-2 tablets twice per day or as directed by a health practitioner.

Please consult with your health care practitioner prior to the use of this product if you are pregnant or nursing, taking medications, or have a medical condition. Keep out of the reach of children.
Trace Your Herbs
Trace the science and purity of our herbs from seed to bottle. Sustainably & ethically sourced, our herbs are formulated for optimal impact for your well-being.
View Test Results
Latest Batch Details
HEAVY METAL TESTING
Passed
Know your Herb
Legend has it…
Translating to 'One with hundred husbands' or 'one that helps with a 100 illnesses', this herb finds a special mention in ancient Vedic texts-Rig and Atharva Veda and also classical works in Ayurveda-CharakSamhita, SushrutSamhita, and AshtangSangraha. Shatavari has been known to be a powerful aphrodisiac and rejuvenator for centuries and is called the Queen of herbs in Ayurveda. It is also a hridayam, that is, supports healthy heart health.* The herb has been associated with properties of devotion and sweetness.
Ayurvedic Properties
Rasa(taste): sweet, bitter.
Virya(potency): cooling.
Vipak (taste after digestion): sweet.
Guna (qualities): guru(heavy), snigdha(sweet), sattvic (pure).
Karma (action)- cooling, nutritive
100% Satisfaction Guarantee
Free Delivery on All Orders*
Live Chat Ayurveda Product Support
Frequently Asked Questions
Results vary for each individual body composition. It may take days to weeks to start seeing results. We recommend taking these supplements for the rest of the year.
If you are already taking a particular herbal supplement in one kit then do not exceed the daily supplement limit if it is also recommended in another kit. Take the daily recommended dosage as listed on the bottle, unless otherwise advised by an Ayurvedic or healthcare practitioner.
If you are already following a suggested program from another Ayurveda or healthcare practitioner, please prioritize that program, especially if it has been customized for your health composition. For further questions please contact your Ayurveda or healthcare practitioner.
Shatavari is a wondrous herb that has been used for centuries in Ayurvedic medicine to restore balance to the body and treat different health issues. This remedial herb grows in the tropical forests of India, Nepal, and Sri Lanka and helps to promote hormonal balance, support a healthy menstrual cycle, and help regulate the transition to menopause in women.
Taking shatavari reduces period pain, regulates estrogen levels, and helps reduce menopause symptoms. It also gives feelings of well-being and increases energy levels.
It is a natural fertility enhancer that helps women conceive and act as a uterine tonic. It is known as a 'Female Tonic' as it is said to help regulate the female reproductive system.
Shatavari helps women regulate their hormones and ensure their menstrual cycle is regular. It does this by calming the nervous system and assisting the body in maintaining equilibrium.
Typical ways to consume Shatavari are:

1. Powdered Form:
The most convenient way to include Shatavari in the diet is by taking it in powdered form. You can mix the powder into drinks like smoothies and shakes, teas, or sprinkle it over meals.

2. Capsules or Tablets:
The extract of Shatavari is also available in the form of capsules or tablets. Taking Sri Sri Tattva's Shatavari tablets ensures that a consistent amount of the extract is ingested. These are made with high-quality Shatavari extract for a potent dose.

3. Herbal Infusions:
To make shatavari tea, you need to mix a few teaspoons of dried shatavari roots or powder into a cup of boiling water. Let it infuse for a few minutes, then strain out any solids. Add honey or lemon to your tea, or mix it with other types of herbal teas to enhance its taste.

4. Traditional Formulations:
Shatavari can also be consumed in the form of churnas (powdered mixtures) or ghritas (medicated ghee). An Ayurvedic practitioner or herbalist can help you determine the formulation depending on the requirement.

5. Herbal Tonics:
Shatavari can also be taken as a nourishing herbal drink. You can make the drink by boiling the dried roots or powdered herb in water or milk, mingled with other herbs or spices.
Generally, Shatavari is a safe supplement for most people to use. But, pregnant women, breastfeeding moms, and people suffering from allergies must need medical advice before consuming it. Also, people who are going to have surgery should avoid taking Shatavari a few weeks before the operation.
It's advised to take no more than two Shatavari tablets from Sri Sri Tattva each time, not exceeding two times daily. This will make sure that the body gets the right amount of beneficial substances from the pills. An alternative is to take one tablet twice a day. Before taking any dietary supplements, it is wise to consult with a doctor or healthcare professional to check if the supplements are ideal for one's requirements.
Shatavari is helpful for women who are having issues with hormone balancing, the menstrual cycle, and the reproductive system. Taking Shatavari tablets may help regulate periods, reduce pain, and ensure hormones are in equilibrium.