Address the Root Cause of Your Health Issues Naturally
My Ayurveda Practitioner recommended the exact herbs and lifestyle changes I needed to feel 100% again.
John S
Online Ayurveda Consultation
A one-to-one complete consultation with a senior Ayurveda Practitioner

Your complete dosha & energy analysis (scientific way to determine your mind/body type and your imbalances)

Exploration of your health history

Suggested personalized diet, lifestyle & supplements plan
Limited Time Promotion
$108
$64.89
BOOK NOW
A Holistic Approach to Wellness
10
All Health Concerns...
Ayurveda Consultation
Are you looking for a complete approach to health and wellness that puts an emphasis on personalized care and healing from the inside out? Well, what's better than an Ayurvedic consultation? It is aimed at examining any bodily issues, from mental to physical ailments, to strike the required balance. Sri Sri Tattva has developed a method of consultation that uses both traditional and modern...... Read More
Clients share their experience

I just heard about Ayurveda and wanted to try it out. Amazed at how the Ayurveda practitioner knew my symptoms and illness just by hearing my voice and seeing me over a Zoom Call. I detoxed my full system and I am feeling so much better.
Steve
I got all the needed suggestions for a healthy lifestyle, food, and the herbal supplements that are best for my body type. Great relief with no side effects!!
Priya
My joint pains are gone thanks to Vaidya Sharika's suggestions. Took only 2 weeks to heal after suffering for 8 months visiting so many Doctors across the USA trying to help me. Thank you Sharika.
Elizabeth
Meet Some of our Experts
Amrutha Nambiar
Amrutha Nambiar is a certified Ayurvedic Practitioner with over ten years of experience in Ayurvedic consultations with experise in Pulse Assessment and Panchakarma treatments.
Shilpa BS
Shilpa is certified Ayurveda Practitioner with experience in pulse assessment and has masters in yoga therapy. She has been efficiently treating different ailments for the past 17 years.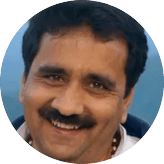 Lokesh Raturi
Lokesh Raturi is a globally renowned Ayurvedic and pulse assessment expert, and trainer associated with Sri Sri Tattva. His expertise includes pulse assessment, chronic disease management, meditation, and panchakarma.
Abhishek Kumar
Abhishek Kumar is Nadi Pariksha & Panchakarma Specialist. He has been a part of Sri Sri Tattva since 2003. His expertise lies in lifestyle disorders (Diabetes, Hypertension, Hyperlipidemia), Skin diseases, Digestive issues, Arthritis.
Shiksha Thakur
Shiksha Thakur is a Certified Ayurveda Doctor & professional member of the National Ayurvedic Medical Association (NAMA). With over 10 years of clinical experience, she has served as Government Medical Officer in Central India and is an expert in Ayurvedic Pulse Assessment.
Book a Consultation
40% OFF (Limited Time)
Book a Follow up Consultation
40% OFF (Limited Time)
FAQ
Since ancient times, the practice of Ayurveda has helped people with all known health concerns. In the ancient scriptures it is said that any prolonged imbalance amongst the elements in our body can can manifest into illness. Our practitioners focus on the root causes of these imbalances.
Ayurveda is complimentary to any other options that you may be pursuing. Many appreciate the complimentry nature of how plants and lifestyle changes can help speed your journey to recovery or reach your full potential.
This can vary depending on the condition and on how easily we can implement the suggestions from the Ayurveda Practitioner.
Ayurveda can always help support an optimal and healthy lifestyle.
Ayurveda practitioners use numerous tools online to help determine one's imbalance including visual and audio cues, combined with discussion, to help determine the body's imbalance.
Online consultations can take up to 30 minutes.
Please do not drink or eat anything 2.5 hours prior to your consultation.
After the consultation you will be provided some recommended herbs, lifestyle, and diet ideas that can help with your imbalances.
Yes, when you click on the PayPal link you can also pay by credit card.
Children and Adults of all ages have benefited from an Ayurveda Consultation.
You can be allocated a senior practitioner automatically by the booking system or select a Practitioner of your choice.