17% OFF
Cruelty- Free
Gluten-Free
Non-GMO
Paraben-Free
Soy-Free
Tested for Heavy Metals
Vegan
Sale price
$4.99 USD
Regular price
$5.99 USD
You save: 17% ($1.00 USD)
Unit price
per
Sale
Sold out
Exfoliates dead skin cells and deeply cleanses any impurities on the skin.
Contains aloe vera, a natural inflammatory agent
Hydrates and removes dead skin
Contains lemon a natural antioxidant that refreshes skin
Contains grape that makes skin more supple
Contains cucumber that cools skin
Contains rose extract that tones and smooths
Suggested Usage:
Apply evenly on face, gently scrub in circular motions, wash off with cold water and pat dry.
Exfoliates dead skin cells and deeply cleanses any impurities on the skin.
Contains aloe vera, a natural inflammatory agent
Hydrates and removes dead skin
Contains lemon a natural antioxidant that refreshes skin
Contains grape that makes skin more supple
Contains cucumber that cools skin
Contains rose extract that tones and smooths
Suggested Usage:
Apply evenly on face, gently scrub in circular motions, wash off with cold water and pat dry.
View full details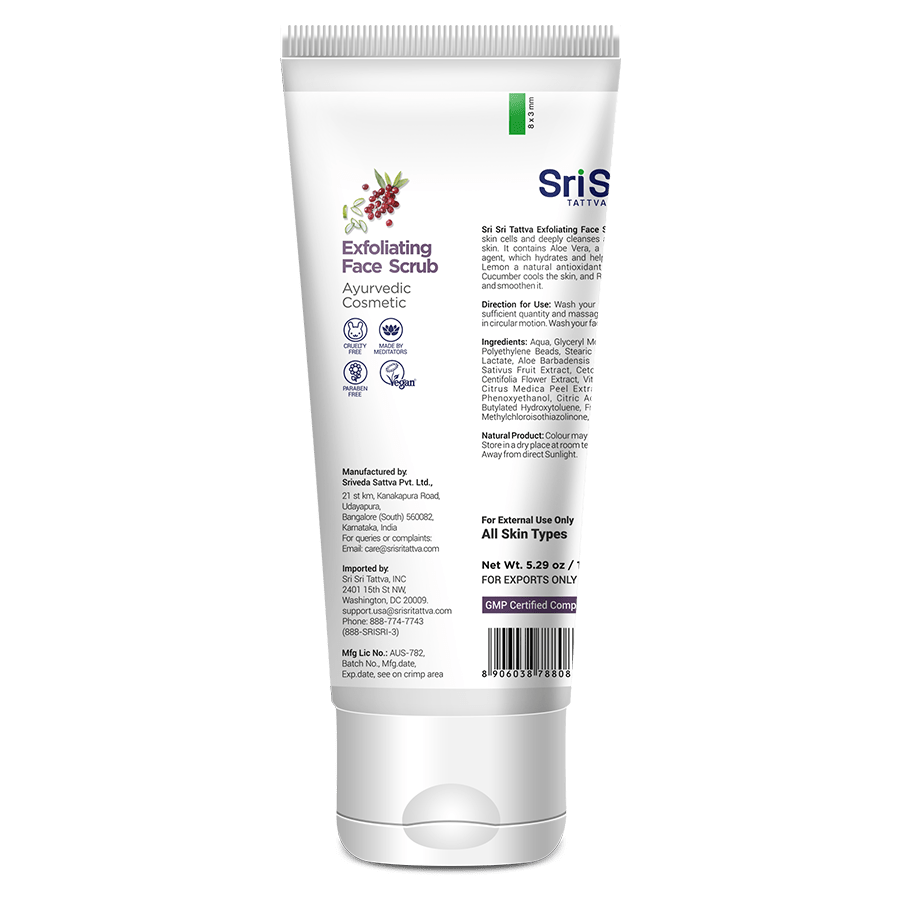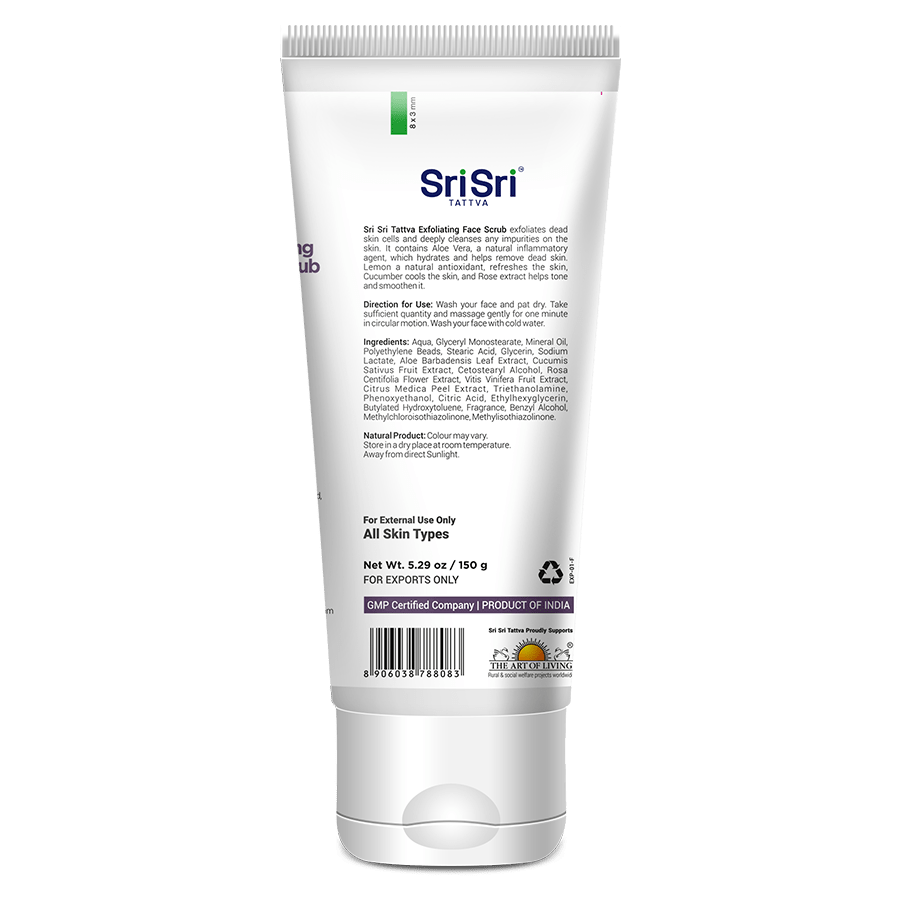 Our Promise
Over 35 years of R&D. Our ayurvedic products are free of harmful chemicals and made in state-of-the-art facilities promoting environmental sustainability.
Trace Your Herbs
Trace the science and purity of our herbs from seed to bottle. Sustainably & ethically sourced, our herbs are formulated for optimal impact for your well-being.
View Test Results
Latest Batch Details
HEAVY METAL TESTING
Passed
100% Satisfaction Guarantee
Free Delivery on All Orders*
Live Chat Ayurveda Product Support
Frequently Asked Questions
A scrub exfoliates the skin by removing dead cells and impurities. It generally contains granular particles that slough off the dead cell skin. This scrubbing stimulates blood circulation and unclogs pores, revealing a smoother, glowing, and more radiant complexion.
Gentle and Nourishing Skin
These exfoliating face scrubs are formulated with natural and organic ingredients such as aloe vera & fruits like grapes that are gentle on the skin. Unlike harsh chemical-based scrubs, the organic ones utilize exfoliants like ground seeds and sugar, known to remove dead skin cells without any irritation or damage. To maintain the skin's hydration, softness, supple and radiant, nourishing ingredients, i.e., such as plant oils or vitamins, are used.

Effective Exfoliation of Dead Skin Cells
Organic scrubs often utilize natural ingredients like sugar, salt, coffee grounds, oatmeal, or fruit extracts. Coffee scrubs use coffee grounds to exfoliate the skin while nourishing oils provide hydration. This dual action of exfoliation and hydration makes it an effective treatment for dry skin. An exfoliating scrub helps to promote a clearer complexion and prevent breakouts. Regular use can result in smoother, more even-toned skin.

Stimulates Blood Circulation
The massaging action of the scrub stimulates blood circulation in the skin. This increased blood flow carries more oxygen and nutrients to the surface, supporting the skin's natural healing process by promoting a healthy glow. Also, improved circulation helps in reducing puffiness, the appearance of fine lines and wrinkles.

Enhances Skincare Product Penetration
The Organic exfoliating face scrub helps to remove dead skin cells, allowing for deep absorption of subsequent skincare products. This promotes a radiant glow, as active ingredients in moisturizers, serums, and creams can penetrate deeper into the skin surface. These deeper layers of the skin can then receive the full benefit of the skincare products, resulting in optimal results.
While searching for an exfoliating scrub, consider one with ingredients such as aloe vera, turmeric, honey, roses, etc., which result in glowing and nourished skin. Also, organic products are cruelty-free, Non-GMO, Soy-free, or Vegan, and help rejuvenate by minimizing redness, itching, bumps, or irritation. For instance, walnut shell powder is excellent as a natural exfoliating ingredient.
Yes! Some exfoliating face scrubs can harm the skin. These will cause micro-tears and damage the skin's protective barrier, leading to dryness and disrupting the skin's natural pH. Our store Sri Sri Tattva only offers organic exfoliating scrubs processed with natural ingredients such as lemon, aloe vera, etc., showing no side effects on the skin. So, avoid using face scrubs that are not organic and harsh to your skin.
The usage of the face scrub usually depends on your skin type and sensitivity. The general guideline recommends exfoliating 2-3 times per week. However, if your skin is sensitive, try to exfoliate less frequently, whereas those with oilier skin should do so more often.